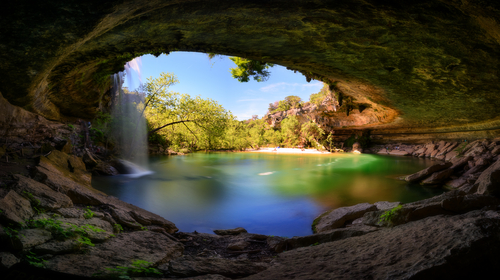 Austin and the surrounding area are full of great swimming holes, but some get less attention than other. That's great news for you, though, if you decide to head to one in your Ford this summer: less known means less crowds.
Hamilton Pool Preserve
This is probably one of the coolest looking cool spots in Texas. The preserve was formed when the limestone dome over an underground pool collapsed thousands of years ago. There's a tumbling waterfall that cascades over the limestone cliff into the pool below and a cavernous shaded area formed by the remains of the limestone dome.
Bob Wentz Park
One of Austin's best kept secrets, Bob Wentz Park is great for swimming, sailing, scuba diving, windsurfing, and picnicking. There's a beach called "The Point," which has BBQ grills available and even sandy volleyball courts.
Jacob's Well
While it's not very large, Jacob's Well is certainly unique. Jacob's Well is a 200-foot deep well, which looks like a deep blue spot compared to the shallow waters surrounding it. It's popular for diving for obvious reasons. Experienced divers can dive down into the well and explore its depths. There's also a rocky overhang that you can dive off of, though it's a bit risky. If you're not interested in diving, it's still a great place to wade and cool off.
Visit Johnson Bros. Ford
Don't forget to visit us at Johnson Bros. Ford this weekend to shop for a new or used Ford car, truck, or SUV. If you're not on the market for a new car yet, Johnson Bros. Ford can also help you keep your car in good shape this summer.