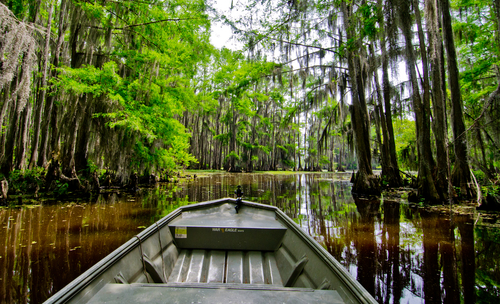 If you're planning a fishing trip, you have to choose which is the best lake to fish in. And then, you need to get everything ready, including your vehicle. Even if you are not towing a boat, you should have your vehicle checked, and repaired if necessary, before you travel any distance. Call Johnson Bros. Ford to set an appointment to have your vehicle checked or serviced before you head out to the lake.
Caddo Lake
If you prefer shallow water fishing, Caddo Lake is where you need to head to. The average depth of this natural lake is about 10 feet. It's a haven for fish that like to hide in bayous and sloughs. You can use spinnerbaits, plastic worms, topwater lures and more. Fish popular in the lake include spotted bass, largemouth bass, chain pickerel and crappie.
Lake O' the Pines
If you prefer smallmouth bass, the early summer months will not disappoint at this lake. Also available are largemouth bass and others. Fish the upper end of the lake above the Highway 155 bridge if you like fishing in shallow water that is lined with islands full of willows. The area also has tons of lotus pads and baitfish.
Amistad Reservoir
This reservoir on the Texas/Mexico border features tons of great hiding places for fish. You'll find deep canyon-like areas and other great cover for fish. Fish in the shallows during the morning and make your way to deeper water in the afternoons. Use crankbaits and topwater lures near the shore and Texas-rigged or Carolina-rigged plastic worms out in deeper water.
Lost Creek Reservoir
Visit this lake for superb bass fishing. The lake has a lighted launch ramp and a large parking area. Fish in moss beds near the ramp, inlets full of cattails and more.
Visit Johnson Bros. Ford

Be sure to stop by Johnson Bros. Ford to test drive a new vehicle or give us a call to set up an appointment to check or service your vehicle before you head out on your next fishing trip.