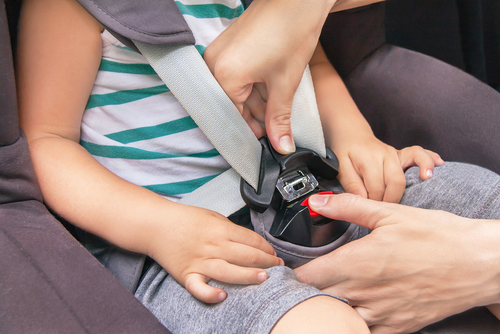 When you test drive a vehicle from Johnson Bros. Ford and you have children, be sure the vehicle has child safety built into it, such as rear door child locks and the LATCH system for child seats. These items will make your job of keeping your child safe in the vehicle easier. Because it's Child Passenger Safety Week next week, we'd like to share some important safety reminders.
Car Seats
You need certain types of car seats for your children based on their ages; and the seats need to be installed properly, whether they are a combination seat that works for newborns through the booster seat stage, a rear-facing seat, a front-facing seat or a booster seat. Since different brands may hook up differently, be sure to read the installation instructions carefully for each seat you use.
When you use the vehicle's seat belt, it should fit across the child's shoulder, not his or her neck; and the lap portion of the belt should lie across the child's thighs.
Remembering Your Child
Though no one thinks they could possibly forget their child in the car, it can happen to anyone. To avoid this, place a reminder in the front with you, such as one of your child's toys. An even better reminder is to put your purse or any other item that you have to take with you in the back seat so that you have to open the back to get what you need. This way, you will see your child and will be less apt to forget the child in the vehicle.
Door Locks and Window Locks
Just like you have to child proof your house, your vehicle needs to be child proofed. Be sure to lock the child locks on the rear doors. If your vehicle has window locks, use the window locks so that your child can't roll the window all the way down.
Visit Johnson Bros. Ford

Stop by Johnson Bros. Ford to test drive a new vehicle and to learn more about that vehicle's features including child safety features.