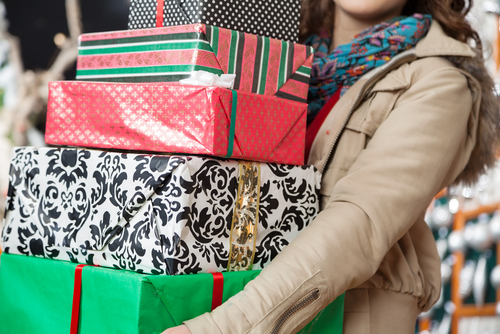 The holidays are upon us and it's time to start thinking about shopping for your friends and family. Shopping can be time consuming at the best of times, but when you're busy working and planning holiday trips, finding the time to shop along the way can be a challenge.
To make things easier, consider these shopping tips to make it a more joyful experience.
Shopping Tips
Do as much shopping as you can as early as you can.
If presents need to be mailed, get those to the post office early so they'll arrive in time.
If shopping time is limited, purchase some stockings, goodies and snacks, and assorted gift cards and create a holiday "stocking gift" for everyone on your list. Fill with holiday candy, gourmet tea and coffee, specialty cheeses, candy canes, and any other treat along with a select gift card.
If you're heading to a family or friend's home for the holidays, stop along the way at interesting out of the way specialty or antique shops and general stores and pick up a unique gift like handcrafted candles, homemade preserves, or a vintage lantern.
Suggested Gifts Car Enthusiasts
Car accessories are always welcome for any auto enthusiast. Purchase new premium floor mats, over the seat organizers, console organizers, or phone/GPS holders.
Put together an emergency kit. It's a gift that could come in handy if your loved one is ever in a bind while traveling and shows that you care about their well being. Include items like a flashlight, reflective emergency cones, a basic tool kit, and other useful items.
Help pay for upgrades or services. Whether they want a new car stereo system, new wheels, or need some brake service done, getting someone's car up to code is a great gift idea.
Take them to Johnson Bros. Ford to test drive a new or used vehicle. If you've got someone really special on your list that deserves a new ride, give them a spin in a Ford or Lincoln and get them into a fresh set of wheels.
Visit Johnson Bros. Ford
Stop by Johnson Bros. Ford to test drive a new vehicle for the holidays. Be sure to ask your salesperson about any lease or finance specials we might be running on your favorite Ford or Lincoln model.