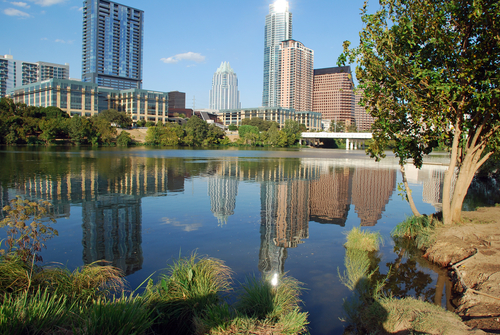 Looking for ways to spend some time outside in the Austin area this summer? Lucky for you, Austin is the outdoor capital of Texas (besides being, you know, the actual capital of Texas). Hop in your Johnson Bros. Ford and head to some of the Austin area's best outdoor sites.
Go Biking
Austin is one of the country's most bike friendly cities. Numerous trails run through and around Austin, not to mention the downtown area itself, which is also exceptionally bicycle friendly. Bring your own bike or rent one when you get there and enjoy the trails all day long.
Visit a Swimming Hole

The Austin area is full of great natural places to go swimming, such as Hamilton Pool Preserve, which is probably one of the coolest looking cool spots in Texas. The preserve was formed when the limestone dome over an underground pool collapsed thousands of years ago. There's a tumbling waterfall that cascades over the limestone cliff into the pool below and a cavernous shaded area formed by the remains of the limestone dome.
See the Stars
Austin itself isn't good for stargazing, but the numerous state parks nearby certainly are. Try Enchanted Rock State Natural Area, one of the best stargazing spots in central Texas. Located near Fredericksburg, Enchanted Rock has the distinction of being an International Dark Sky Park, part of a family of parks around the world that are recognized as being exceptionally dark for nighttime viewing. Enchanted Rock let's you see the night sky with great clarity; you'll be able to spot planets and see the spiral arm of the Milky Way.
Visit Johnson Bros. Ford
Don't forget to visit us at Johnson Bros. Ford this weekend to shop for a new or used Ford car, truck, or SUV. If you're not on the market for a new car yet, Johnson Bros. Ford can also help you keep your car in good shape this summer.