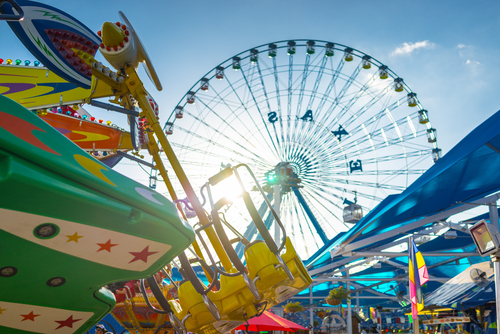 Tomorrow is the opening day at the State Fair of Texas. What's the best part of the fair? Why, we like to think it's the food. The rides, games, and exhibits might be grand, but the fried food is where the fair really shines.
But what food stands out the most this year? Which ones should you save room for and spend your hard earned coupons on?
Get your beloved funnel cakes and corn dogs, but remember to keep an eye out for…
Deep Fried Froot Loops – Sweet Finalist

Love Froot Loops cereal? Then you'll love this hedonistic spin on the breakfast cereal classic. Froot Loops cereal is combined with marshmallow cream filling in a creamy batter outer shell, deep fried, and covered in glaze and powdered sugar.
The Tamale Donut – Savory Finalist

Donuts + tamale = heaven. It's one of Einstein's lesser known mathematical proofs and we think it's underrated. The tamale donut takes the filling of your traditional tamale, in this case pork carnitas, but shapes it into a donut instead. It's then covered in jalapeno salsa.
Gulf Coast Fish Bowl – Best Taste Sweet

This one came out on top in the sweet category and it's no wonder why. It looks like an aquarium with Nerds candies as the gravel bottom and iced blue punch as the water. Swedish Fish fill the bowl and a pineapple ring garnishes the opening.
Funnel Cake Bacon Queso Burger – Best Taste Savory and Most Creative

The king of the 2017 fried foods is the funnel cake bacon queso burger and it's exactly what it sounds like. Take a hamburger patty, top it with bacon and queso, then put all of that goodness between two funnel cakes. It's the most savory, most creative fried Frankenstein at the fair this year. Don't miss it.
Visit Johnson Bros. Ford

Stop by Johnson Bros. Ford to test drive a new vehicle to take to the fair. Be sure to ask your salesperson about any lease or finance specials we might be running on your favorite Ford model.
Don't forget to check out the Ford vehicles on display at the Auto Show when you're at the State Fair. You'll be able to get an up close look at all of your favorite models… just don't bring any food into them!